National Road Transport Morocco
Your goods transported by professionals throughout the whole of the Morocco, from Tangier to Lagouira
National transport Morocco
Boumara Trans is your partner for national transport through all of Morocco… from Tangier to Lagouira. We offer a wide range of
services: road transport (full or partial) as well as the customs clearance services.
With a fleet of modern vehicles equipped with the best of technology, Boumara Trans answers all your queries in terms of road transport. Active for more than 25 years, Boumara Trans, transport company road covering Morocco, Europe and Africa brings you the best logistics solutions whatever your economic sector.
Our main road transport destinations in Morocco.
Road transport Agadir
Road transport Casablanca
Road transport Tangier
Road transport Laâyoune
Road transport Rabat
Road transport Oujda
Road transport Fez
Road transport Ouarzazate
Road transport Taroudant
and all of Morocco…
Do not hesitate to contact us for more information.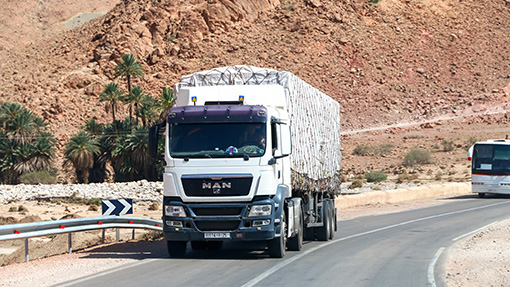 Do you have a question?
A question ? A special request? Our specialists in national transport in Morocco are here to answer you